Although it may not feel like it, summer is just around the corner! Soon, school will be out, the sun will be shining, and the summer fun we all look forward to can finally begin. But why do the same old summer activities? Here are 5 summer fun ideas to shake up your summer that you probably didn't think of.
1. Sponge Balls
Let's face it. Water balloons are fun, but they take up way too much time to fill, tie, and stock. Sometimes they don't pop. Sometimes they hurt. And they only last for one throw.
Introducing, sponge balls! These are simple to make, reusable, don't hurt as much, and save a ton more time, giving you the optimal time you need to win your sponge ball fight. They're also saving you money.
For directions on how to make sponge balls, click here.
2. Scavenger Hunt Walk
Not much can beat a summer walk through town, around a park, or on a trail. It's easy for kiddos to get bored, though, isn't it? Postpone boredom and all the are-we-there-yets, by engaging the kids through a scavenger hunt. Keep a tally for how many birds they see, or maybe there's bonus points if they spot a bunny. Maybe they have to count how many steps it takes to cross the bridge, or every time they see a duck they have to quack. The possibilities are endless!
3. Icebox Cake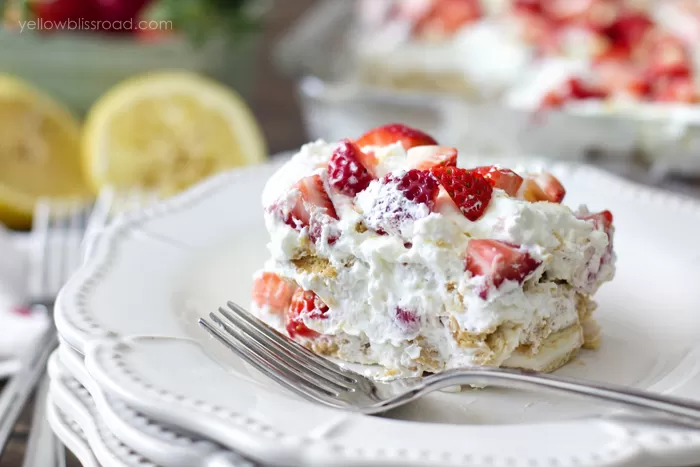 Don't feel like baking? Need to cool off with a sweet treat? Check out this Strawberry Lemonade Icebox Cake! (yum!) With a base of Golden Oreos soaked in lemonade, lemony whipped cream, and sugared fresh fruit, this is a refreshing dessert sure to please in the summer months.
Throw in some blueberries and you have a delicious option for Memorial Day and Fourth of July!
For the full recipe, click here.
4. The Wonders of a Kiddie Pool
Relax in the great outdoors in style by throwing some blankets and pillows into a blow-up kiddie pool! There's no bugs, no itchy grass, and it's oh so comfy. You can stargaze, or maybe watch an outdoor movie, read some books, or play I Spy.
5. Free Events
You'd be surprised how many free events take place locally. Here in Jefferson, free summer events include; concerts in the park, movies in the park, a national night out (an event with our police officers and helicopters), community days, a Goat Fest, and more! The library is another great place for free programs including everything from movies, to crafts, to awesome events, as well as the summer reading program.
Stop by your local Chamber of Commerce to find out more about free, upcoming events, and your local library!
---
How'd we do? Are there any favorite summer activities you have? We'd love to hear them! Comment below and share your favorite summer activities!